How Much Does It Cost To Hire A Marketing Team?
As a business owner, one of your likely goals is to grow your company. Yet time and money are two very real concerns for anyone in charge of overseeing the daily operations of a business. 
Growing often means investing in marketing, and to launch an effective strategy in today's competitive world, it's important that you have the right team in place that also aligns with your time, budget and business goals. 
The big question for many business owners is: How much does it cost to hire a marketing team? 
The answer to this question often depends on what you need and who provides it. An in-house marketing team can cost you hundreds of thousands of dollars per year. On the other hand, a much more affordable option for many is hiring a marketing agency. 
Below we'll dive into these two options and how much they cost so you can determine which is best for your business and it's long-term sustainability.
Costs Of Hiring An In-House Marketing Team
Business owners are multi-faceted and multi-talented. Yet wearing all of the hats necessary to implement a marketing plan that adds value to your business is nearly impossible for one person to accomplish.
In today's digital world, you're marketing team members may include a:
Marketing manager
Copywriter for blog posts and other marketing materials
Graphic design artist
Content marketing and keyword strategist
Website developer and web designer
Mobile marketing specialist
Marketing software expert
Search engine optimization (SEO)/keyword research 
Social media specialist
Metrics data analyst
Unless you have a career in human resources, it's easy to fail to realize the true costs associated with hiring staff. Not only do you have an employee's base salary, you also have to consider additional expenses like payroll taxes, health insurance contributions, retirement plan matches, and vacation and sick days. 
Hiring just ONE of the employees we mentioned above can cost more than hiring a marketing agency.
To show you what we mean, let's take a look at the cost of hiring a marketing manager who will oversee your marketing efforts:
Hiring A Marketing Manager Salary + Benefits

Core Compensation 1 Year
Base Salary – National Average
$109,331
 
 

Value Of Beneifts

Social Security
$6,966
401K / 403B
$3,292
Disability
$823
Healthcare
$6,595
Pension
$5,761
Time Off
$11,255
 
Total Compensation 
$144,023
Hiring A Marketing Agency

Retainer Agreement 1 Year
Inbound Marketing Monthly
$3,000
Software Subscriptions – Approximate based on needs
$1,000
 
Total Expenditure
$48,000
Annual Investment

Hiring An Employee
$144,023
Hiring A Marketing Agency
$48,000
 
Annual Expenditure Difference
$96,023
A marketing manager's salary will vary based on experience and your hiring budget, but if the total compensation per year is between $125,000 and $150,000 per year, you would be looking at a payroll budget for one employee of between $10,416 and $12,500 per month.
That's only for the employee who is managing your marketing department. Although your marketing manager will likely have extensive experience overseeing a marketing plan, that individual likely won't have the time or experience to implement every single aspect of your plan. You'll need additional employees to accomplish that. 
Costs Of Hiring A Marketing Agency
That brings us to your second option, hiring a marketing agency. If you're a small- to medium-sized business, these salary numbers are enough to make your head spin. You know you need marketing help, but you also know that hiring an entire marketing team isn't financially feasible. 
Is there an alternative? Yes! And, for many businesses, hiring a marketing agency is a better choice because it makes more sense logistically and financially.
Marketing agencies can offer you all of the services you need to implement an effective marketing plan while saving you the high costs associated with hiring an entire marketing staff. 
Click the infographic to view the full image.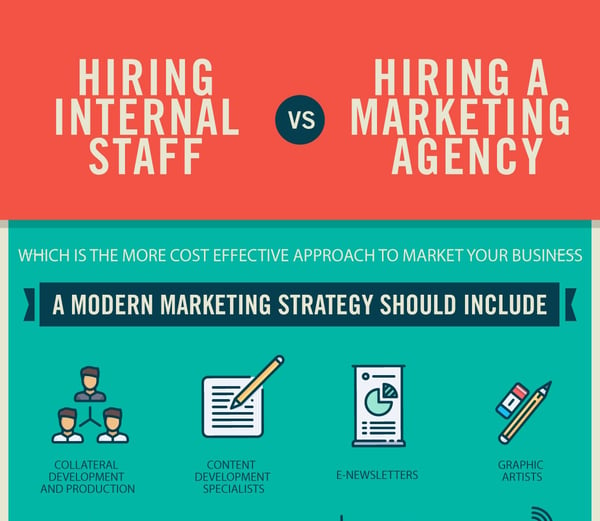 Marketing agencies vary in retainer costs, but you can expect to pay about $4,000 per month. This figure includes both a monthly retainer agreement and software subscriptions. Depending on what you need to put your marketing plan into action, these subscriptions can range from $1,000 to $5,000 per month if you pay for them on your own.
Other Benefits Of Hiring A Marketing Agency
In addition to helping you keep your payroll costs down, a marketing agency will modernize your strategy. Gone are the days where outbound marketing methods like yellow page advertisements and print ads were popular. Now, modern consumers are armed with computers and mobile devices. They expect real-time access to information so they can make buying decisions.
Companies need to ensure that their messages are well executed and have websites that are easily found on the internet. This will help you convert visitors into leads through an inbound marketing process.
A modern marketing strategy includes:
Website development and redesign
Graphic design work
SEO/keyword research
Market research
Mobile marketing integration
Brochure development and production
Content development
Targeted email creation
E-newsletters
Social media marketing
Paid advertising
Metrics and data analysis 
Print marketing
Public relations work
Special events
Sponsorship
A marketing agency will also help free up time so that you can run your business. As a business owner, you're used to handling a lot of tasks on your own. However, the learning curve for anyone with little experience in marketing is staggering. Putting a marketing plan into action is extremely time-consuming and would leave you little time to run your business.
Finally, an additional benefit of hiring a quality marketing agency is that you can rest assured you are making a sound investment in your business. 
The pricing dynamic has shifted and many marketing firms are now working on clearly spelled out pricing structures that come with lower-fee marketing retainer agreements. While the cost of working with an experienced inbound agency will average around $4,000 per month, the DIY approach of handling the digital marketing yourself OR hiring an entire marketing team will be much more costly. In fact, working with an inbound marketing agency is a relative bargain.
Among these cost-effective benefits you will receive include:
Expertise with your market niche
Experience in executing marketing plans
Money savings by hiring to your specific needs
No employee training required
Your marketing plan is executed immediately
Avoidance of HR nightmares
No additional overhead
Tax deductions, not tax liability
Efficiency for short-term and urgent projects
As we highlighted above, launching an effective strategy in today's competitive world means having the right team in place that aligns with your time and budget needs. Working with an experienced digital marketing agency will save your small business money and time, and connect you with the right team to turn your goals into a reality.