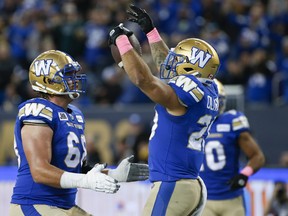 Business has never been better as Blue Bombers making history on and off field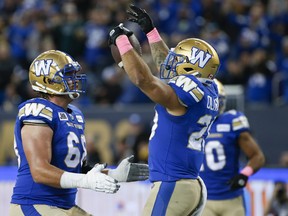 Article content
It was still four hours before kickoff on Saturday, and the buzz was already starting in south Winnipeg.
Article content
"It's unbelievable the levels that we're getting to with the fan experience," Blue Bombers head honcho Wade Miller was saying, early in the afternoon. "There's people tailgating already in the parking lots. The culture is just something truly, truly unique to see."
Article content
Going into Saturday's tilt with Edmonton, the Bombers were averaging a CFL-best 29,561 fans per game, the second-highest average in team history.
Article content
The only year they've averaged more (30,637) was 2013, the first year of the new stadium.
Back then, the fans came out to see the new facility.
These days, they're coming to watch one of the best teams in franchise history.
The two-time defending Grey Cup champs kicked off Thanksgiving weekend by gobbling up the Edmonton Elks, 48-11.
Article content
This was a feast with all the trimmings, and I'm not just talking about the pre-game meal in the Bob Irving Media Centre.
The evisceration of the Elks left Mike O'Shea's team with a 14-2 mark, matching the most wins in a season in this club's storied history.
With two games left, the Bombers have a chance to match the CFL record 16 wins by Edmonton in 1989.
That record will mean little to them. They'll focus on the only prize that really matters, trying to win a third straight Grey Cup.
Nearly unprecedented waves of fans are going along for the ride.
Going into Saturday, the Bombers had drawn four straight crowds of more than 30,000, including back-to-back sellouts of 33,324, both to watch their team trample rival Saskatchewan.
Article content
"It's fantastic," Miller said. "It's an unbelievable atmosphere in here. And that goes with winning. That goes with a great game-day experience. Our staff off the field work really hard to create that great fan experience. People are having a lot of fun. It's not just people coming to watch a football game."
Drop in on the pre-game tailgate area and you'll be part of a throng of anywhere between 3,000 and 5,000, Miller says.
"And then you see the north end is the largest nightclub in Canada."
You don't often see teams removing seats from facilities. But that's exactly what the Bombers did in the north end zone a few years ago.
They began drawing more people there, not fewer, creating a social area that's jammed every game.
Article content
That's where Nic Demski and Dalton Schoen hauled down first-quarter touchdown passes from Zach Collaros on Saturday, signalling the Bombers meant business. Four drives, four touchdowns to start the game. By the end of it, they'd clinched first place and a place in the West Final.
"It's huge. In front of our fans is crucial," running back and Winnipegger Brady Oliveira said, post-game. "That home-field advantage is real in Winnipeg, and it makes it very hard for opponents to come in here and win games."
This team is like the Rolling Stones, though. It can't get no satisfaction.
Despite its lofty status, GM Kyle Walters had spent a good chunk of the previous few weeks trying to get Edmonton to trade all-star receiver Kenny Lawler back to Winnipeg.
Article content
"We're not going to stop finding a way to try to get better, on and off the field," Miller said. "We're never satisfied."
It's an unprecedented time to be the man in charge. It's probably safe to say Blue business has never been better.
Not even a worldwide pandemic that wiped out 2020 could halt the momentum of the 2019 Grey Cup title.
That the Bombers even averaged nearly 26,000 fans in the shortened 2021 season was astonishing.
The spark from that drought-busting Grey Cup just needed some air.
"We caught fire a little bit," Miller said.
On the field, they're burning like a wildfire: Winnipeg has won 26 of its last 28 games on home turf, including one West Final.
For someone who covered this team through much of that 28-year drought, an era wrought with on-field foibles and front-office follies alike, with the odd close-but-no-cigar season thrown in, it all feels a little surreal.
Miller isn't ready to bask in it, though. He's keeping as straight a face as the Bud Grant statue outside the stadium.
"We look at this as a great opportunity to create more fans and drive this even bigger," he said. "And that's what we do every day. The goal's to win the Grey Cup, but you've got to win each week."
The streak of 30,000-plus crowds ended on Saturday – attendance was 27,159.
That's still better than the average crowd from five of the previous eight seasons at the new stadium.
The winning shows no sign of ending.
[email protected]
Twitter: @friesensunmedia